April 29th, 2008
DogFish Head
Midas Touch honored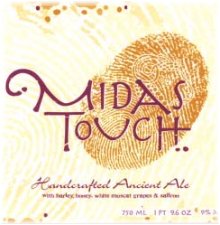 Dogfish Head Craft Brewery's Midas Touch Golden Elixir honored
Dogfish Head Craft Brewery's Midas Touch Golden Elixir was recently awarded a bronze medal in the Brewers Association's 2008 World Beer Cup.
The global beer competition brings together 129 judges from 22 countries to evaluate more than 2,930 beers from 646 breweries in 58 countries. Dogfish's Midas Touch was awarded the bronze medal in the Specialty Honey Ale/Lager category.
"We are very excited to see Midas Touch, such a unique and excellent beer, be recognized by our peers," explains Dogfish Head's Lead Brewer Bryan Selders.
In addition to the honor, Dogfish's Midas Touch was also one of just six beers selected to be served with the World Beer Cup dinner at the April 19th event. Midas Touch Golden Elixir was served with an excellent scallop ceviche.
"Our Midas Touch is such a fantastic food pairing beer," explains Dogfish Head founder and President Sam Calagione, "made with honey and saffron, the beer has a succulent flavor that melds well with Pan-Asian dishes, curries and chicken.
Dogfish Head Craft Brewery is located in Milton, DE. Dogfish brews 25 styles of beer thorough out the year and distributes them across the United States. The brewery is open to the public and offers free tours. For more information, visit www.dogfish.com or call 302-684-1000.